Carib Island Tuna & Shrimp Kabobs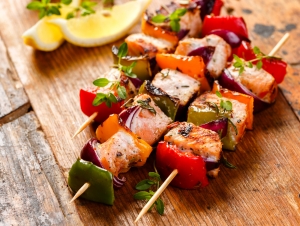 A special recipe from the island of Saint Martin in the Caribbean – with permission of Saint Maarten Guavaberry Company N.V.  www.guavaberry.com
Make a large kebab alternating one inch cubes of fresh ALBACORE TUNA, whole SIDE STRIPE SHRIMP, onions, red & green peppers. Marinade the kebabs in a mixture of 2oz Sint Maarten Guavaberry (or other fruit liquor) , 1oz brown sugar, 1 tbsp vinegar, 1 teasp thyme and hot sauce to taste. Cook on hot mesquite BBQ for 2 minutes, basting constantly.
Lorne Clayton
Albacore Tuna with Fermented Black Beans and Arugula Salad
The pungency from the umami packed fermented black beans is balanced by the light orange vinaigrette dressing on the salad.
180g Albacore Tuna
salt and fresh ground black pepper
Sauce:
100g […]
Share & Enjoy Award Winning Tuna Recipes
We would love to try your Ablacore Tuna recipes. Send us an email and share your favorites with our community.